Can you believe we're already in the second month of 2014, the month in which we celebrate Valentine's Day?!! Where did January go so fast?

Anyway, just to keep you in the loop - I have lots of projects on the table this month, including 'Billionaire's Blackmail Bride' and 'Babies for the Billionaire'. Readers have been asking about Rafe's story, Duke's story and Lena's story. They've also asked

...

about Ryder and Ridge. You won't be disappointed. For Valentine's Day, one of the Billionaire Bad Boys will be featured with his very own story. The question is, which one? Can you guess? (let me know)

Next Saturday, Feb. 8, I'll announce who my next bad boy billionaire will be. Tune in to find out! I'll have another treat for you - the cover reveal of my next story.

Until then, have a wonderful week to come!
And by the way, if you've read my latest, 'Rome for Always', don't forget to leave a quick review/ feedback. Thanks, in advance, for your support. You know I'll love you for it! : )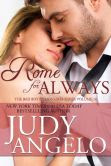 I hope you'll enjoy the read

:

)